Based near Asheville, North Carolina, we specialize in photovoltaic (PV) design and installation. Our systems accomodate everyone from the do it yourself (DIY) home owner to full industrial scale installations. For the Do It Yourselfer we offer a variety of engineered kits designed for easy installation and expansion. For small business or industry, we offer a ballast roof system. Our top of pole mount systems are suitable for residential and industrial applications as well. These easy to install systems feature construction of aluminum, stainless steel and hot dipped galvanized materials. Our pole mount, ground and roof ballast kits are designed by NAPCEP certified PV installers and manufacturing engineers. The result is a modular installation process, pleasing to the eye, sturdy in construction and complete in all details.
PHOTOVOLTAIC (PV) SOLAR
Why Now?
Use this map of all the states to find the ones with a Personal Tax Credit: In "Program Type" use "Personal Tax Credit" and in "Technology" use "Solar Photovoltaics":

http://programs.dsireusa.org/system/maps?type=31

Reliable energy production will reduce electric bills and greenhouse gases.
Renewable energy is a sensible investment with immediate benefits.
Loaded ?
Image X of Y
|
« Previous
|
Next »
PV Solar System Investment Yields Immediate Benefits
The system belongs to you and immediately adds value to your property

.

All tax credits and incentives go directly to you.
Energy produced by your system will result in savings on your electric bill.
Energy produced by your system will increase in value as the price of electricity increases.
Loaded ?
Image X of Y
|
« Previous
|
Next »
Our System Advantages
Local companies providing local jobs
Custom structures and designs
Superior wattage output from high efficiency systems
Long life solar panels and inverters
Simple to install
Easy to expand
Loaded ?
Image X of Y
|
« Previous
|
Next »
The Heart Of Our System -- The Enphase Microinverter
Productive
Per-module Maximum Power Point Tracking (MPPT) contributes to energy harvest gains of 5 - 25%.
With Enphase Microinverters, the modules are resilient to dust, debris, and shading.
Enphase Burst Mode technology provides greater production in low-light conditions.
Reliable
No single point of failure exists in this system.
The Microinverter provides continuous monitoring of the performance of each PV module.
Soft switching reduces component stress.
Smart
Quick and simple installation
No central or string inverter to install or design
Monitoring and management of system provided 24/7 for each module
The Enphase Microinverter system is the first commercially-available microinverter system for residential and commercial solar PV applications.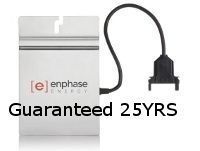 For more information on the Enphase Microinverter see the following links: